No one in New Zealand knows more about prompting for stage or screen.
We know the pitfalls to anticipate, the questions to ask about the venue, the challenges and, more importantly, the solutions.
The success of your shoot is vitally important, so every teleprompter, presidential prompter, Interrotron and confidence monitor is delivered by a professional technician with all of the appropriate equipment. We can mount any camera- from iPhone to Red Epic or your money back, and feed presidential screens or 50″ Monitors, mobile phones or laptops, wired or wireless- in fact we can feed any number of screens simultaneously- anywhere in the world. 
PROMPT SERVICE– the first call for prompting services to OSB, Sky Television, TVNZ, Mediaworks, Encore, Spyglass, Orange Productions, Uno Loco, The Production Company, Production Associates, AV Events…and many more, for over 20 years.
Rate Card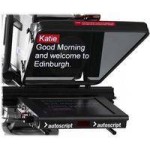 22″ display and 17″ LCD High-Bright monitor w/ Molded Hood
$800 p/day, $480 half-day
Mounts to your tripod or freestanding on a wheeled stand. Recommended unit to accommodate the majority of recording situations, especially if you have exterior locations or blue/green screen work. Can run off battery power and wirelessly.
*System rate includes experienced operator
---
ProPrompter 9″ Display hood unit with 7.5″ monitor
$750 p/day, $450 half-day*
Clips to the front of the camera lens. Really only suitable for extreme close-up, in-car or hand-held work. Can run off camera or external battery power, or swap out for a smartphone.
---
Presidential/Stage System
Manual System:  1 pair of 15" LCD monitors– $1000 p/day ($800 if providing your own monitor/s)
Manual System:  2 pair of 15" LCD monitors– $1200 p/day 
Robotic Riser System: 1 pair of 15" LCD monitors– $1500 p/day (additional pair of manual stands and monitors available for $100)
<5hrs= 60% of day rate
***NB: this system is NOT suitable for live TV recordings. For these we recommend using a large flatscreen display- POA
FOR MULTIPLE PRESENTERS OF DIFFERENT HEIGHTS we recommend our Telesteper robotic riser system
---
All our system rates include an experienced operator
All our systems are able to accept a wireless prompting signal- with advance notice
Only our 9″ ProPrompter is available for dry-hire at $150 p/d
All quoted rates are GST exclusive       Book Us Here